Crane Forks TKG VH - Tigrip
Capable of handling loads up to 5000kg the TKG VH crane forks are an ideal attachment for a hoist and crane system to enable the easy lifting of pallets.
Brand::

YALE

Product Code:

Crane Forks TKG VH

Availability:

In Stock
Call 01384 76961 for price.
Features of the TKG VH Crane Forks
These crane forks are able to handle pallet as well as coils due to the fact that the tines can be adjusted. They would be set wide apart for handling pallets and close together for lifting coils. The length of the tines in 1000 mm making them long enough to carry a pallet with excellent stability.
The height is also adjustable with the adjustable range varying across the models, the maximum usable height is 2000 mm. It is easy to adjust by removing the retaining clip and pin from the frame and highering or lowering the upper part of the frame to the desired height before re-inserting the pin and retaining clip.
There is a securing chain to wrap around the palletised load for extra safety, this is anchored back into an eye on the main body/frame. There are various anchoring points for the suspension eye at the top of the frame where your crane/hoist hook will be positioned. The position chosen will depend on the loads centre of gravity which should always be maintained. The tines will tilt upwards slightly (no more than 5 degrees ) to ensure the load does not slip off.
Always carry out a test lift to ensure the centre of gravity, attachments and tines are in the correct position to ensure good stability. You can find out more in the user manual download above.
Other Pallet Moving Products
Although these crane forks are a great way to handle pallets and coils it may not always be convenient, especially if you do not have a craning system or hoist. In this instance a pallet truck would be a better option.
We have a good range of trucks to suit a variety of tasks from heavy duty models to long fork models. We even have electric powered options by Pfaff should you need it.
Jib cranes and mobile lifting gantries can be made to order at the lowest prices around and we can also supply your choice of hoisting device, trolley and loose lifting tackle should you need those too.
Call Lifting Gear Direct on 01384 76961 if you need any help.
| | | | | | |
| --- | --- | --- | --- | --- | --- |
| Model | TKG VH 1 | TKG VH 1.5 | TKG VH 2 | TKG VH 3 | TKG VH 5 |
| Adjustment of tines A (mm) | 350 – 900 | 250 – 900 | 400 – 900 | 450 – 900 | 500 – 1000 |
| Usable Height B (mm) | 1100 – 1600 | 1300 – 2000 | 1300 – 2000 | 1300 – 2000 | 1300 – 2000 |
| Length of Tines C (mm) | 1000 | 1000 | 1000 | 1000 | 1000 |
| Section of Tines D (mm) | 100 x 30 | 100 x 40 | 120 x 40 | 120 x 50 | 150 x 60 |
| Overall Height E (mm) | 1390 – 1890 | 1600 – 2300 | 1640 – 2340 | 1670 – 2370 | 1700 – 2400 |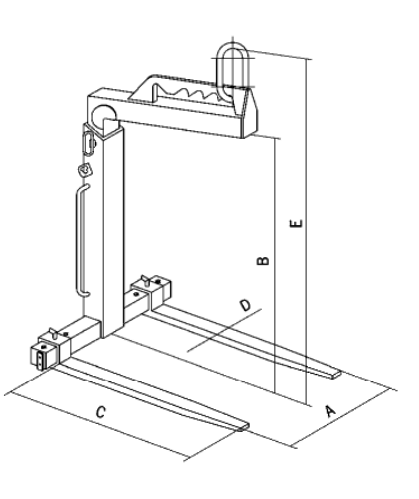 | | | | | |
| --- | --- | --- | --- | --- |
| Model | Capacity kg | Weight kg | Length of Tines mm | Usable Height mm |
| TKG vh 1 | 1000 | 128 | 1.000 | 1.1 – 1.6 |
| TKG vh 1.5 | 1500 | 148 | 1.000 | 1.3 – 2.0 |
| TKG vh 2 | 2000 | 193 | 1.000 | 1.3 – 2.0 |
| TKG vh 3 | 3000 | 248 | 1.000 | 1.3 – 2.0 |
| TKG vh 5 | 5000 | 388 | 1.000 | 1.3 – 2.0 |