Wide Leg Hydraulic Drum Truck Raptor DTW250
Similar to the DTR250 hydraulic drum truck the DTW250 has a leg span which allows it to straddle euro pallets. Ideal for off loading and positioning drums.
Brand::

RAPTOR

Product Code:

Raptor DTW250

Availability:

In Stock
About the Wide Leg Drum Truck DTW250
This particular hydraulic drum truck is for handling steel drums with a 210l capacity. The truck has a maximum lifting capacity of 250kgs and a lifting height of 345mm.
The wide straddle legs enable drums to be set down and removed from a euro sized pallet, as the legs stand aside each edge of the pallet. The truck grips the steel drum at its top rim by means of steel jaws which are spring loaded to ensure a tight hold.
The DTW250 incorporates three wheels; 2 fixed larger wheels at the front and a smaller swivel castor type wheel at the rear. Because the rear wheel swivels, manoeuvring the truck and changing direction is easy; the rear castor can also be locked into place to prevent unwanted movement.
This drum truck is easy to use, the main handle is used to lift the grabbing jaws to the correct height where it can then be rested over the top rim of a steel drum, there is a lever connected to the jaws which will lock the grab onto the drum when pulled.
The crank handle can be used to raise the drum further is desired and then transport to wherever you need to deposit the drum. There is a discharge joystick near to the main handle, and when turned counter-clockwise the drum will lower to the ground, the jaw lever can then be pushed forward to release the drum from the jaws.
Other drum lifting solutions
Lifting Gear Direct can offer many different types of drum handling equipment which includes different drum trucks for easy drum transportation around the workplace; Drum tongs and grabs for lifting drums with a crane hook or hoist, and also a great range of forklift truck attachments which enable you to lift and transport drums using your forklift, this is a great way to extend the usage capabilities of your truck.
Questions, Quotes and Advice
If you need to talk to someone for advice on which drum truck or other lifting equipment would be the best and/or most cost effective solution for your application just call us on 01384 76961. Any questions you may have can also be answered at this time. Quick prices can be obtained via the request a quote function; alternatively you can get in touch via email from the rapid enquiry form or contact us page.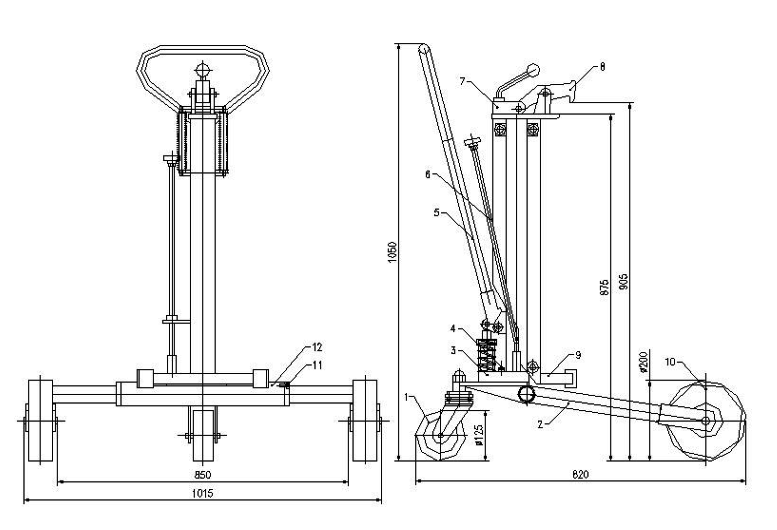 | | | | | |
| --- | --- | --- | --- | --- |
| Model | Capacity | Lift Height | Drum Size | Weight |
| DTW250 | 250Kgs | 345mm | 210 Litre | 45Kgs |