Yale CPV/F 25-8 Electric Hoist with Integrated Trolley
If you need an
electric hoist
that can handle loads weighing up to 2500kg, the CPV/F 25-8 is the product for you. It offers two speed settings, a single chainfall and an integrated
beam trolley
to round out its feature set.
Brand::

YALE

Product Code:

Yale CPV/F 25-8 Electric Hoist with Integrated Trolley

Availability:

In Stock
Call 01384 76961 for price.
Power in a small package
Although the CPV/F 25-8 is relatively compact, it still manages to pack a lot of punch for its size. The 2.5 tonne capacity is a welcome sight, exceeding all but the largest of the other model in the CPV/F range.
The main lift speed is set at 8 metres per minute; more than enough for most lifting operations where you want to handle heavy objects via machine. The second speed setting of 2 metres per minute is much slower, ensuring precise levels of control can be accessed as and when the operator requires them.
You can pick the electric beam trolley for this hoist, or alternatively opt for the push trolley which is a little lighter and more affordable. As this component is integrated, either option should save you money over buying a beam trolley separately.
Potential alternatives
Hoists are not only made by Yale, but also by a number of other popular brands, many of which are showcased right here on the Lifting Gear Direct site.
The Stahl ST range is an excellent example of this, providing capacities of up to 5000kg and coming with longer chains for increased lifting heights.
Contact us today
You can ring LGD on 01384 76961 and let a friendly sales team representative talk through your electric hoist queries, or alternatively send an email from our site.
| | |
| --- | --- |
| Model | CPV/CPVF 25-8 |
| A3, mm | 339 |
| A4 (Size I), mm | 631 |
| A4 (Size II), mm | 815 |
| A4 (Size III), mm | 905 |
| A4 (Size IV), mm  | - |
| A5, mm | 566 |
| b, mm | A = 98-180  B = 180-300 |
| H1, mm | 30 |
| H3, mm | 178 |
| H4 (VTG), mm | 149 |
| H4 (VTE), mm | 121 |
| I (Push trolley), mm | 142 |
| I (Geared trolley), mm | 149 |
| L (VTP/VTG), mm | 525 |
| L1, mm | 209 |
| L2 (CPV), mm | 292 |
| L2 (CPVF), mm | 296 |
| L3, mm | 263 |
| L4, mm | 258 |
| O, mm | 125 |
| P, mm | 172 |
| P1, mm | 233 |
| S, mm | b + 70 |
| T, mm | 94 |
| tmax, mm  | 27 |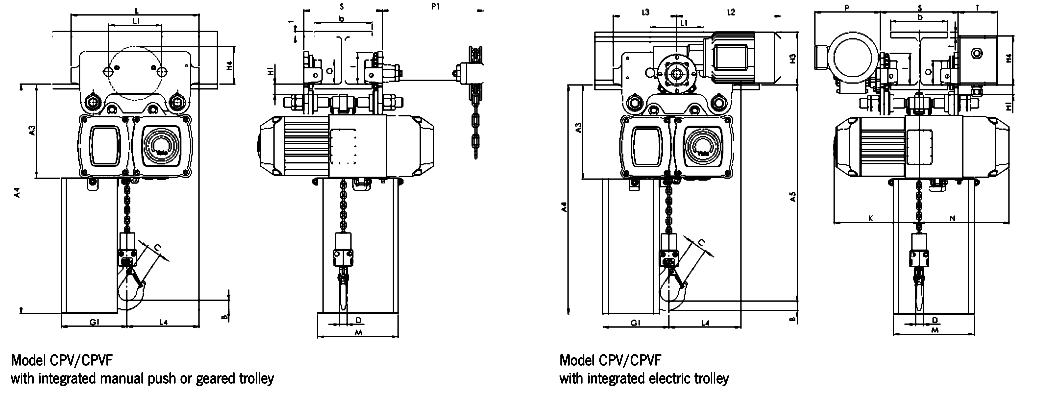 | | | | | | | | | | | |
| --- | --- | --- | --- | --- | --- | --- | --- | --- | --- | --- |
| Model | Capacity in kg/number of chain falls | Chain dimensions d x p (mm) | Classification FEM/ISO | Lifting speed       main lift m/min | Lifting speed fine lift m/min | Hoist Motor (kW) | Motor Rating ED% | Weight suspension lug (KG) | Weight push trolley (KG) | Weight         electric trolley (KG) |
| CPV/F 25-8 | 2500/1 | 11 x 31 | 1Am/M4 | 8 | 2 | 3.6/0.9 | 33/17 | 85 | 147 | 161 |