Yale Tigrip TKR Crane Weigher
The Yale Tigrip TKR Crane Weigher comes complete with carry case, pc cable, batteries, user software,
Brand::

YALE

Product Code:

Yale-Tigrip-TKR

Availability:

In Stock
Call 01384 76961 for price.
Part of a range of crane scales from Yale, the TKR is a compact yet potent product which is subdivided into several different models, with varied load capacities available to suit the needs of as many users as possible.
Usability of the Yale Tigrip TKR Crane Weigher
The TKR Tigrip crane Weigher can be operated via radio transmission remote control, the display values can also be read directly from the remote device, and transferred easily to a PC. This makes it a very versatile crane scale, capable of being set up in a multitude of scenarios and offering premium performance at a cost effective price point.
Numerous values can be measured, totalled and saved, it has a USB interface and accumulation memory. Once again this affords operators an excellent level of choice when it comes to how this crane scale is used; few other models can offer quite as much performance potential.
With all the same other features as the standard TKL this is a versatile piece of equipment.
Capacities & other options
Like the Yale TKL, the TKR offers different measuring load limits depending on which model you choose. If you only want to assess the weight of cargo that comes in at under a tonne, the entry level example will be more than adequate. If you want more capacity to play with, you can have anywhere up to 12 tonnes of load-weighing power at your fingertips across the TKR's range.
Regardless of which model you pick, you can be certain that the TKR will be very precise in its readings, to avoid any issues. Each boasts an accuracy step of 0.1kg and you can find the full table of technical data below to get all the information you need.
We provide load and force calculation equipment from other brands besides Yale, so browse our full range to find products from companies including Straightpoint, Dynafor and Dini Argeo, amongst others.
Getting in touch with us
Every customer of Lifting Gear Direct can expect to get an exceptional level of customer service, whether you need more product info or want to get a quote for a crane scale. Give us a call on 01384 76961 or drop us an email for advice.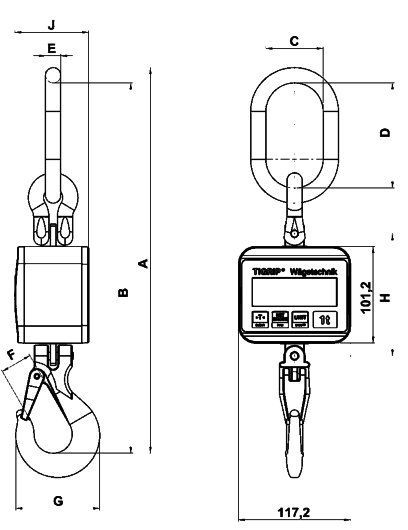 Model

TKR 1

TKR 2

TKR 3.2

TKR 5

TKR 8

 

TKR 12

A mm

389

417

488

571

657

804

B mm

356

379

441

514

588

709

C mm

60

60

75

90

100

140

D mm

110

110

125

160

180

260

E mm

13

16

18

22

26

35

F mm

20

25

32

40

49

45

G mm

70

81

103

126

152

190

H mm

128

136

140

148

158

176

J mm

 

77.4

77.4

84.4

84.4

97.4

97.4
Model

Measuring load (tonne)

Nominal load (tonne)

Limit load (tonne)

Braking unit weight (KG)

Complete of the end value %

Accuracy step (partition) KG

 

TKR 1

0-1

1

1.1

>4

3

0.1

TKR 2

0-2

2

2.2

>8

3.5

0.1

TKR 3.2

0-3.2

3.2

3.5

>13

6

0.1

TKR 5

0-5

5

5.5

>20

7.5

0.1

TKR 8

 

0-8

8

8.8

>32

10.5

0.1

TKR 12

0-12

12

13.2

>48

20

0.1