Fork or Crane Drum Tipper - Contact DTRU 3&4
All drum types can be handled with the DTRU drum tipper. Mountable to a crane hook or forklift truck. Empty and turn drums with ease.
Brand::

Contact

Product Code:

Contact DTRU 3&4

Availability:

In Stock
Call 01384 76961 for price.
About the DTRU Fork or Crane Drum Tipper
One of the main benefits to the DTRU 3 & 4 drum tippers is that it is universal; they can be utilized with any main drum type; steel, plastic, Mauser and fibre drums in 210 litre sizes can all be handled efficiently.
This drum tipper incorporates a solid base platform for total stability, this is especially important when handling flexible sided drum types like the fibre drum. Fibre drums can flex when being lifted and rotated, this can mean that the straps which hold the drum in place may loosen and cause the drum to slip, and the addition of the solid base ensures this doesn't happen.
The DTRU has the additional advantage of dual fitting options. It can be mounted to the tines of a fork lift truck or it can be attached to a hook and slung under a crane and/or hoisting device. This drum handling device incorporates a central lifting eye for hook attachment or sizable pockets to slip over the forks of a forklift truck and secured by means of a screw clamps.
As with all models in the DTR fork lift mounted drum handling range the number 3 & 4 models operate in various ways; the DTRU 3 has a crank lever and the DTRU4 has a loop chain. Which one you choose will largely depend on how you wish to handle your drums. If, for example you will need to tip the drum whilst above head height then the DTRU4 with the loop chain would be most beneficial because the chain can be operated from the driving seat of the truck.
Easy Operation
Both types operate via a robust gearbox which ensures effortless rotation with the precision needed for controllable pouring of the contents. Spillages and therefore wastage can be kept to a minimum.
The drum holding girdle is manually adjustable and will secure the drum with two ratchet straps which can be tightened to suit the drum type. With the drum holding girdle in a horizontal position, drive it up to the drum to be lifted, the drum may need to be tilted slightly in order for the solid base to be slid underneath. Once in the correct position the drum can be secured by tightening the two ratchet type straps, one at the top section and one at the bottom; when secure, lifting rotating and pouring can begin without the need for manual handling.
This type of drum handling equipment can be weighty, so please ensure your fork lift truck of other lifting method can take the full weight of both the drum handler and the full drum itself.
Other drum lifting aids
Lifting Gear Direct is able to supply other types of lifting equipment suitable for drum handling, so alongside our fork lift mounted options we also have a vast range of drum grabs and tongs as well as a really good range of drum trucks which are ideal for warehouse use and quick transportation from A to B. Drum handlers come in many forms so browse our ranges taking note of the type of drum which can be lifted and the way in which they are grabbed/held.
Get in Touch with the team at LGD
We have a range of ways in which you can get in touch with us
1. Call 01384 76961
2. Use the contact us page to email
3. Use the request a quote or buy it now button
4. Use the rapid enquiry form
We endeavour to answer all queries as soon as possible to ensure your needs are met quickly.
| | | | | | | | | |
| --- | --- | --- | --- | --- | --- | --- | --- | --- |
| Model | Capacity (KG) | No. Of drums | Drum Types | Type of Op. | A load centre | B fork spread | C fork width | D fork thickness |
| DTRU-3 | 360 | 1 | 1,2,3,4 | Crank handle | 784mm | 682mm | 140mm | 60mm |
| DTRU-4 | 360 | 1 | 1,2,3,4 | Loop Chain | 784mm | 682mm | 140mm | 60mm |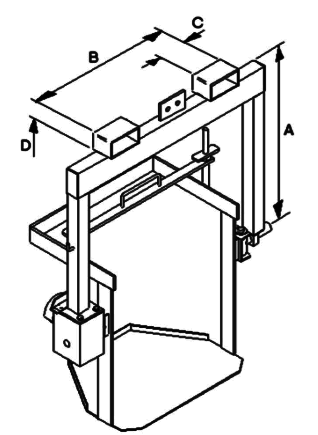 | | | |
| --- | --- | --- |
| Model | Weight (KG) | C of G |
| DTRU-3 | 100 | 50mm |
| DTRU-4 | 104 | 50mm |