Forklift Drum Rotator Contact DTR-DS 1&2
Lift, rotate and empty steel or plastic drums with ease with the DTR drum rotator. Other drum handling options available from Lifting Gear Direct.
Brand::

Contact

Product Code:

Contact DTR-DS 1&2

Availability:

In Stock
Call 01384 76961 for price.
About the DTR 1&2 Drum Rotator
Lifting, rotating and emptying drums has never been so easy as with the DTR drum rotator. With this model range you can handle 210 litre steel drums as well as large and extra large ring plastic drums both with maximum lifting capacities of 360 kg.
The attachment slides onto the tines of a forklift truck and secures with robust 'T' screw retention bolts. TIP! You must refer to the precise specifications below to ensure the attachment will fit onto the forks of your truck; they are not all the same measurements! However the DTR has generously sized fork pockets to enable the truck to be driven straight in, this makes the fitting of the attachment much easier and very quick.
The drum fits snugly into a braced girdle which is manually adjustable; the drum is secured with webbing ratchet straps to ensure the drum is held firmly without risk of slipping.
The DTR drum rotator has a robust, quality gearbox to enable easy rotation and emptying of the drum. The DTR-1 operates with a crank handle and the DTR-2 operates with a loop chain, both facilitate easy and controlled operation without much effort. A hydraulically operated model is also available – the DTR-1-H. The drums can be fully rotated through 360 degrees and locked at any angle. The DTR-2 with its loop chain enables the drum to be rotated overhead thanks to the length of the chain to operate the tipping motion, this can be operated from the driving seat.
Other Drum Handling Solutions
Lifting Gear Direct offers a broad range of equipment suitable for handling drums in different scenarios. Our collections include many other forklift attachments, as well as below hook suspension drum handling equipment such as drum grabs and drum tongs. For the most simplistic and cost effective way of handling drums, try one of our drum trucks they are perfect for transporting drums around easily.
Calling LGD
01384 76961 is the number you need if you wish to speak to an advisor for help or place an order, alternatively you can hit the request a quote tab on the product page or send us an email through the contact page or the rapid enquiry button.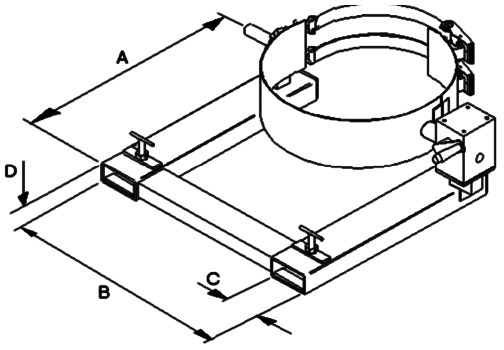 | | | | | | | | | |
| --- | --- | --- | --- | --- | --- | --- | --- | --- |
| Model | Capacity (KG) | No. Of drums | Drum Types | Type of Op. | A load centre | B fork spread | C fork width | D fork thickness |
| DTR-1-SC | 360 | 1 | 1 | Crank handle | 750mm | 942mm | 140mm | 50mm |
| DTR-2-SC | 360 | 1 | 1 | Loop Chain | 750mm | 942mm | 140mm | 50mm |
| DTR-1-DS | 360 | 1 | 1 & 2 | Crank handle | 750mm | 942mm | 140mm | 50mm |
| DTR-2-DS | 360 | 1 | 1 & 2 | Loop Chain | 750mm | 942mm | 140mm | 50mm |
| DTR-1-110 | 200 | 1 | 1 | Crank handle | 750mm | 751mm | 140mm | 50mm |
| DTR-2-110 | 200 | 1 | 1 | Loop Chain | 750mm | 751mm | 140mm | 50mm |

| | | |
| --- | --- | --- |
| Model | Weight (KG) | C of G |
| DTR-1-SC | 90 | 510mm |
| DTR-2-SC | 96 | 510mm |
| DTR-1-DS | 92 | 510mm |
| DTR-2-DS | 98 | 510mm |
| DTR-1-110 | 84 | 310mm |
| DTR-2-110 | 90 | 310mm |