Dynamo Eye Bolt Whitworth Thread
Call 01384 76961 for price.
They can be useful for a huge number of load-bearing purposes. We can supply these bolts in whatever quantity you need, as well as in the size and dimensions that you require. Once you have wrapped your head around the information on this page, please contact Lifting Gear Direct using our details below and we can take it from there.
Technical details of this dynamo eye bolt
The only way to make the right decision when buying lifting accessories, particularly from a safety standpoint, is to be in possession of all the relevant product details. Luckily we have added the technical data and dimensions for dynamo eyebolts with a BSW thread to the bottom of this page. It will take you seconds to see what each unit can offer, so there is no need for guesswork.
With a SWL from 0.10 tonnes to 3.5 tonnes, this dynamo eyebolt range is fully tested and therefore certain to perform effectively. You can also check up on the dimensions of each unit, with thread lengths from 3/4 inch up to 2-1/16th inch. Because this follows the classic Whitworth standard, measurements are given imperially. It may hark back almost two hundred years, but this standard has remained relevant to this day and helped to define the modern age of construction and manufacturing.
Alternatives to the Dynamo Eye Bolt Whitworth Thread
Opting for a basic dynamo eyebolt with a BSW thread is ideal for many of our customers. However, if you are in need of something a little different, you will have a great chance of finding it elsewhere on our site.
For example, we supply swivel eye bolts that are much better at tackling tricky lifting tasks. We also stock snatch blocks, which can be a great addition to a variety of commercial lifting assemblies.
Seize the opportunity to search our site and look for lifting equipment from the biggest brands around. You will not be disappointed with what you find.
Time to Talk
Whether you want to ask a question or place an order, our team can leap into action and assist you. Our contact page provides a quick way to get in touch via email, or you can ring us on 01384 76961. There is never any pressure to make a purchase and we can provide competitive quotes so that you know you are getting a good deal.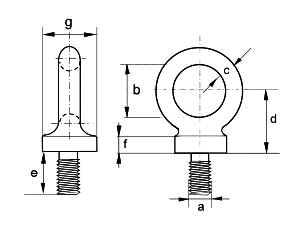 | | | | | | | | | |
| --- | --- | --- | --- | --- | --- | --- | --- | --- |
| Safe Working Load | Diameter Thread | Diameter Eye Inside | Diameter Eye | Length Base to Centre | Thread Length | Base Height | Diameter Base | Weight Each |
| tonnes | a inch | b inch | c inch | d inch | e inch | f inch | g inch | kg |
| 0.1 | 1/4 | 7/8 | 3/8 | 1.1/16 | 3/4 | 1/4 | 3/4 | 0.08 |
| 0.15 | 5/16 | 7/8 | 3/8 | 1.1/16 | 3/4 | 1/4 | 3/4 | 0.09 |
| 0.25 | 3/8 | 7/8 | 3/8 | 1.1/16 | 3/4 | 1/4 | 3/4 | 0.09 |
| 0.5 | 1/2 | 1.1/16 | 7/16 | 1.3/8 | 1 | 5/16 | 1 | 0.14 |
| 0.8 | 5/8 | 1.1/4 | 1/2 | 1.5/8 | 1.1/8 | 3/8 | 1.1/8 | 0.24 |
| 1.2 | 3/4 | 1.9/16 | 11/16 | 2.1/8 | 1.1/4 | 3/8 | 1.7/16 | 0.43 |
| 1.6 | 7/8 | 1.3/4 | 11/16 | 2.5/16 | 1.3/8 | 3/8 | 1.3/8 | 0.61 |
| 2.2 | 1 | 2 | 13/16 | 2.7/16 | 1.13/16 | 1/2 | 1.5/8 | 0.88 |
| 2.65 | 1.1/8 | 2.3/8 | 1 | 2.7/8 | 2.1/16 | 3/4 | 2.1/8 | 1.63 |
| 3.5 | 1.1/4 | 2.3/8 | 1 | 2.7/8 | 2.1/16 | 3/4 | 2.1/8 | 1.7 |