ATEX Yalelift 360 Chain Block
The 360 Yalelift chain block is
ATEX rated
providing medium protection against sparks which may cause explosions in hazardous areas. With a great range of SWL options
Call 01384 76961 for price.
It packs in all of the perks of the standard Yalelift 360 chain block and features a range of load capacities, starting at 500kg and ranging right up to 20 tonnes. Its design offers flexibility in terms of how and where it is operated, which is an excellent addition to an already impressive all-round lifting solution.
Rundown of ATEX Yalelift 360 Chain Block Features
ATEX rated; ll 2 GD c llB T5 (zone 1/21 & 2/22)

Top and bottom hooks are copper plated.

Specially coated trolley with buffers.

Bronze plain roller.

Brake with cooling element.

Load chain galvanic, zinc plated and a stainless steel hand chain.

Specially coated unit.
Explanation of ATEX Chain Block Benefits
You can find a number of ATEX rated chain blocks here at Lifting Gear Direct, including the adapted YLLHP/G low headroom hoist which is also manufactured by Yalelift. All of these models, along with this 360 iteration, come with coatings that combat sparks. This means that they will not ignite flammable gasses, combustible liquids or explosive powders. In certain industries, such a design will be vital to ensure safety.
If a fully-fledged ATEX compliant chain block is an unnecessary feature of your business, it is a good idea to browse our full range of other units. These manual models come from Yale and rival brands such as GT and Tiger.
ATEX Yalelift 360 Chain Block Options
The capacity of each of these hoists is dependent in part on the number of chain falls that are present. The more chain falls, the greater the weight that the block can bear. The largest of the bunch is easily able to shoulder 20,000kg across its six chain falls. The smaller models with a single chain fall can manage between 500kg and 3000kg.
All examples come with a rotating hand chain guide, which allows them to be operated with greater ease than other units. This applies even if the operator is positioned overhead, rather than to the side of the load. Such flexibility is an uncommon attribute and boosts this already eye-catching chain block above the competition.
Ask us about Yale Chain Hoists
Yale makes a wide range of chain blocks and other lifting equipment, so you might not find it easy to work out which product is best suited to your particular needs. If you find yourself in this position, just call the LGD team on 01384 76961 or visit our contact page for the full details of how to get in touch. We can talk to you about what kit you should buy.
Model

YL ATEX 500

YL ATEX 1000

YL ATEX 2000

YL ATEX 3000

YL ATEX 5000

YL ATEX 10000

 

YL ATEX 20000

Amin,mm

300

335

395

520

654

825

1010

B,mm

17

22

30

38

45

68

85

C,mm

24

29

35

40

47

68

64

D,mm

133

156

182

220

220

220

303

E,mm

148

175

203

250

250

383

555

F,mm

139

157

183

204

204

204

250

G,mm

139

164

192

225

242

326

391

H,mm

206

242

283

335

352

436

501

I,mm

24

24

31

34

21

136

/

K,mm

61

70

83

95

95

95

396

L,mm

79

87

100

109

109

109

125

M,mm

110

125

156

178

285

401

471

N,mm

 

14

19

22

30

37

50

56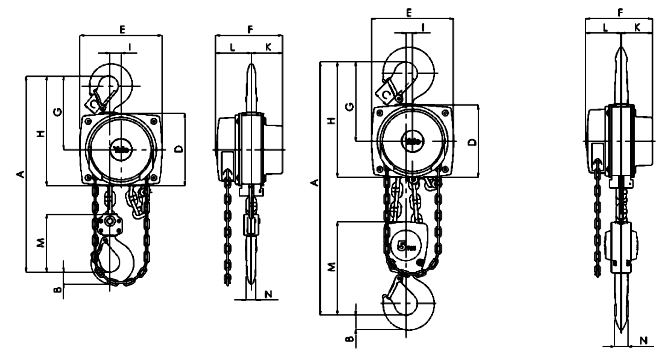 Model

Capacity KG

Number of chain falls

 

Chain dimensions d x p mm

 

Hand chain overhaul for 1m lift m

 

Pull on hand chain at WLL daN

Weight at standard lift (3m) KG

 

YL ATEX 500

500

1

5 x 15

30

21

9

YL ATEX 1000

1000

1

6 x 19

49

30

13

YL ATEX 2000

2000

1

8 x 24

71

32

20

YL ATEX 3000

3000

1

10 x 30

87

38

29

YL ATEX 5000

5000

2

10 x 30

174

34

38

YL ATEX 10000

10000

3

10 x 30

261

44

71

YL ATEX 20000

20000

6

10 x 30

522

2 x 44

196