Stainless Steel D Shackles
With an eye catching finish and a durable construction, our stainless steel d shackles are good looking and reliable, but have not been tested and certified for load bearing duties.
They are ideal for fastening or anchoring jobs, but cannot be relied upon for specific lifting tasks. This makes them cost-effective and attractive, like the rest of our range of stainless steel shackles.
Design & Features
This D shackle is manufactured from stainless steel to AISI 316 and comes with a polished finish. The dee configuration is best suited to inline anchoring, so if you want to attach something to a shackle from an angle, our stainless steel bow shackles will be a better option.
The steel used to make these shackles is capable of limiting the amount of corrosion that builds up over time. It is not the most hard-wearing shackle we stock, but it should still be more resistant to rusting than untreated, self coloured metal lifting accessories.
Using a Stainless Steel D Shackle
Stainless steel dee shackles with a screw pin connection offer aesthetically pleasing connectors for many tasks, however they should NOT be used for any type of lifting operation.
The working load limit shown in the table below is for guidance only from the manufacturer as they have not been fully load tested, and Lifting Gear Direct take no responsibility for these limits and does not advise using these shackles for lifting or load bearing operations.
If you need a stainless steel dee shackle for load bearing tasks then you should use a stainless steel high tensile dee shackle which is designed for lifting purposes.
Sorting through our Shackle range
The head turning gleam of stainless steel shackles may be important if they are on display a lot of the time. However, if you are not looking to impress anyone but instead need raw load bearing power, then our green pin dee shackles are worth investigating. They are fully tested and certified, with working load limits starting at 0.33 tonnes and rising right up to 55 tonnes. They feature the same screw pin connector, making them simple to use. Units with a safety bolt system in place are also available.
Of course you may be more interested in the cost effectiveness of the shackles you buy. That makes our commercial dee shackles a sensible option. Like their stainless steel counterparts, they are not built for lifting. Instead they are made from affordable mild steel and have no extra treatment applied, aside from electro-galvanisation.
Call or email for Shackle Assistance
There are a lot of things to take into account when choosing which lifting shackle is the best product for your needs. From the design and materials used to the load capacity and safety features, it is easy to get overwhelmed by choice. Call 01384 76961 or email your details to our team and we will take you through this process and set you on the right path.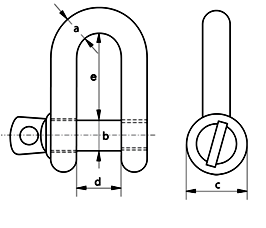 | | | | | | | |
| --- | --- | --- | --- | --- | --- | --- |
| Working Load Limit | Diameter Bow | Diameter Pin | Diameter Eye | Width Inside | Length Inside | Weight per 100 Pieces |
| tons | a mm | b mm | c mm | d mm | e mm | kg |
|   | 4 | 4 | 8 | 8 | 16 | 1.1 |
| 0.12 | 5 | 5 | 10 | 10 | 20 | 1.6 |
| 0.15 | 6 | 6 | 12 | 12 | 24 | 2.4 |
| 0.3 | 8 | 8 | 16 | 16 | 32 | 5.6 |
| 0.4 | 10 | 10 | 20 | 20 | 40 | 13 |
| 0.6 | 12 | 12 | 24 | 24 | 48 | 20 |
| 1 | 16 | 16 | 32 | 32 | 64 | 48 |
| 1.5 | 20 | 20 | 40 | 40 | 80 | 84 |
| 2 | 22 | 22 | 44 | 44 | 88 | 127 |
| 3 | 25 | 25 | 50 | 50 | 100 | 184 |
| 3.5 | 28 | 28 | 56 | 54 | 106 | 250 |
| 4.5 | 32 | 32 | 64 | 64 | 128 | 372 |