Kito ED Electric Hoist
The Kito Ed electric hoist is a series of compact and lightweight, high speed hoists. Because they are light and compact they are much easier to transport and handle when compared to other makes.
Brand::

KITO

Product Code:

Kito-ED-Electric-Hoist

Availability:

In Stock
Call 01384 76961 for price.
These hoists are available in a range of models which include single speed models, dual speed models and a cylinder type, tool handling model. Low voltage options are also available. Lifting capacities come in increments from 60kg up to 480kg and so can be utilised for many day to day lifting tasks.
Key Features of the Kito ED Electric Hoist
The main body of the Kito ED is made from die-cast aluminium; it is this which essentially makes it light in weight. Designed with low headroom in mind the Kito ED is easy to install and use even in the tightest of spaces.
These electric hoists incorporate a heavy duty motor with 300-600W. A compact DC motor including an AC rectifier ensures low heat generation whilst maintaining duty cycles.
The load brake has an in-built friction clutch for optimum safety. This will slip in the case or overloading or over winding to prevent damage. The braking system also boasts dual brakes and uses both regenerative and mechanical ones, this ensures maximum safety. The upper limit switches also add to the safety of the Kito ED electric hoist.
The oil bath immersed ball & needle bearings ensure smooth running and low noise operation.
The dual speed models can have the speed adjusted from 0 to 100% of the maximum speed. This is done via a special setting screw which is located inside the push button switch. The cylinder control, tool handling model incorporates a soft touch rocker switch just above the hand grip. This enables quick changes from high to low speeds. In addition there is a turn able knob which enables customisable speed control settings.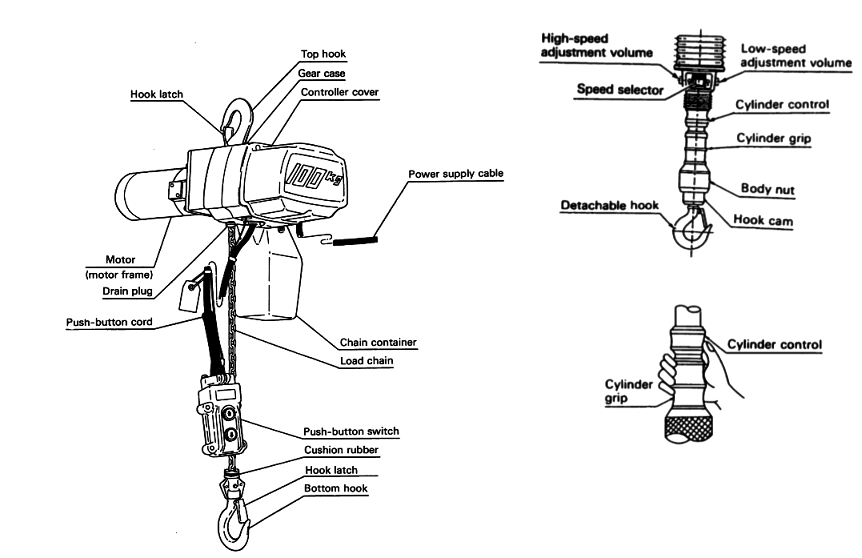 The main benefits of this hoist are its compactness, lightweight, speed and reliability. The smallest 60kg model weighs in at just 12kg, whilst the biggest 480kg model weighs just 21kg.
Standard Specifications
Standard lift: 3 metres (push control) or 1.8 metres (cylinder control.
Voltage: 1 phase AC 120V or 240V both for 50Hz & 60Hz
Motor Insulation: Class F
Enclosure: IP54
Operation: Push button or cylinder type
Operating temperature: -20 to +40 degrees Celsius.
Operating Humidity: 85% or less.
Other options
If this hoist is not quite what you are looking for Lifting Gear Direct can offer many other similar hoisting equipment from all the top manufacturers including more hoists from Kito, for example, we have a range of tool handling options or a single speed hoist from Yale, the CPV electric hoist.
We can also provide repairs, maintenance and inspections to any electric hoist, all work is carried out by our own team of qualified engineers and appropriate paperwork is always given. Make Lifting Gear Direct your one stop place to go to for any type of lifting equipment, our prices are rarely beaten. Call our sales team if you need more information or a quote.
Single Lifting Speed with 3 metres standard HOL
| | | | | | | |
| --- | --- | --- | --- | --- | --- | --- |
| Type | Capacity (KG) | FEM | Lifting speed (m/min) | Duty Rating (% ED) | Chain falls | Headroom (mm) |
| ED06S | 60 | 1Am | 20.1 | 30 | 1 | 315 |
| ED10S | 100 | 1Am | 12.5 | 30 | 1 | 315 |
| ED16S | 160 | 1Am | 19.2 | 30 | 1 | 330 |
| ED18S | 180 | 1Am | 7.7 | 20 | 1 | 315 |
| ED24S | 240 | 1Am | 12.9 | 30 | 1 | 330 |
| ED48S | 480 | 1Am | 6.4 | 30 | 2 | 520 |
Dual Lifting Speed with 3 metres HOL as standard
| | | | | | | |
| --- | --- | --- | --- | --- | --- | --- |
| Type | Capacity (KG) | FEM | Lifting speed (m/min) | Duty Rating (% ED) | Chain falls | Headroom (mm) |
| ED06ST | 60 | 1Am | 20.1/4.0 | 30 | 1 | 315 |
| ED10ST | 100 | 1Am | 12.5/3.0 | 30 | 1 | 315 |
| ED16ST | 160 | 1Am | 19.2/4.0 | 30 | 1 | 330 |
| ED18ST | 180 | 1Am | 7.7/3.0 | 20 | 1 | 315 |
| ED24ST | 240 | 1Am | 12.9/3.0 | 30 | 1 | 330 |
| ED48ST | 480 | 1Am | 6.4/2.0 | 30 | 2 | 520 |