Yale YBF Spring Balancer
The YBF and YBF-L (long rope version) Spring balancers are the ideal tool for repetitive tasks with heavy tools. Keep your workspace clear of tools with and minimise muscle strain with a Yale spring balancer.
Brand::

YALE

Product Code:

Yale YBF Spring Balancer

Availability:

In Stock
A spring balancer or tool balancer is a very specific piece of tool handling equipment which hold tools in the perfect position for a task, they are used predominantly in areas such as packaging, light assembly tasks, bench work and car assembly plants, repairs and maintenance. They help to reduce fatigue when using tools in a repetitive manner.
Key Features of the Yale YBF Spring Balancer
Designed for handling loads/tools which are constantly lifted, giving good balance and lowering repetitive strain injuries.
The two models you see here are essentially the same however the YBF-L version has a longer rope length but lower capacity range up to 130kg, compared to the YBF which goes up to 200kg, you can see all the technical details in the specifications tab.
The YBF spring balancer range incorporates a tapered rope drum complete with a drum lock to enable easy rope and load changes. Changing the rope is a simple task and can be completed without the need to disassemble the balancer. There is a small slot in the body to facilitate rope changes.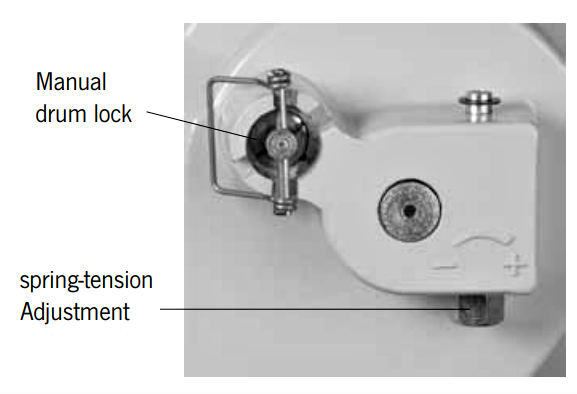 There is a separate special spring mechanism inside a closed steel housing in the balancer which ensures the counter balance is consistent, and also enables easier handling during assembly and disassembly. The tension of the spring can be adjusted by turning the worm at the back of the unit with a wrench, clockwise to increase tension and counter-clockwise to decrease tension. There is a gauge at the front of the unit showing the approximate tension setting.
Wear resistant nylon is used for the rope guide to help to reduce wear on the rope and body or the spring balancer, thus increasing the working life. This rope guide is removable and can be installed on site without disassembly.
The YBF series has a load indicator which enables clear and easy reading of the set capacity.
Both the upper and lower hooks have safety catches to ensure safe anchoring and load attachment. There are also upper and lower suspension eyes where secondary safety chains can be attached, this is always advised as it provides additional safety by stopping the balancer and load from accidental falls.
There are a number of do's and don'ts for using these spring balancers, all the specifics can be found in the user manual in the download section above. This will also detail how to use, assemble, replace the rope and a trouble shooting guide.
More Tool Handling Equipment
Besides these spring balancers there are a number of other options which can be used for tool handling at the workbench. These come in the form of powered hoists with a special tool handling attachment. Lifting Gear Direct can offer 2 electric tool handling hoists by Demag and Kito and 2 air powered bench hoists by JDN and Red Rooster, so take a look to see if they would better suit your needs.
Not sure? Ask us for some advice by calling the team on 01384 76961 or send us an email via the contact form.
Model

CAPACITY MIN, KG

CAPACITY MAX, KG

CABLE TRAVEL MAX, M

NET WEIGHT KG

6X19 WIRE ROPE DIAMETER MM

YBF

YBF 09

4.5

9

1.3

4

4

YBF 15

9

15

1.3

4

4

YBF 22

15

22

1.5

8

5

YBF 30

22

30

1.5

8

5

YBF 40

30

40

1.5

10.5

5

YBF 50

40

50

1.5

10.5

5

YBF 60

50

60

1.5

11

5

YBF 70

60

70

1.5

11.5

5

YBF 85

70

85

1.5

12

5

YBF 100

85

100

1.5

12.5

5

YBF 120

100

120

1.5

28




YBF 140

120

140

1.5

29




YBF 170

140

170

1.5

35




YBF 200

170

200

1.5

36




YBF-L

YBF-L 09

4.5

9

2.3

7

5

YBF-L 15

9

15

2.3

7.5

5

YBF-L 22

15

22

2.3

8.5

5

YBF-L 30

22

30

2.3

8.5

5

YBF-L 40

30

40

2.3

11

5

TBF-L 50

40

50

2.3

11

5

YBF-L 60

50

60

2.3

11.5

5

YBF-L 70

60

70

2.3

12

5

YBF-L 85

70

85

2.5

26.5




YBF-L 100

85

100

2.5

27




YBF-L 120

100

120

2.5

34




YBF-L 130

120

130

2.5

35