JDN Mini Air Hoist
The JDN Mini Air Hoist has a manipulator option making it ideal for workbench and production line tasks.
Brand::

J-D-NEUHAUS

Product Code:

JDN-Mini-Air-Hoist

Availability:

In Stock
Call 01384 76961 for price.
About the JDN Mini Air Hoist
The Mini series of air hoists by J.D.Neuhaus is ideal for most light-medium lifting applications. This is probably the smallest air hoist on the market and needs 6 bar air pressure. It was designed with the input from many customers with what they wanted from a hoist like this. The result is great.
A mini manipulator may also be added to enable easy operation and movement with one hand. Perfect for maximising productivity and tool handling.
Lifting heights available up to 8 metres.
Lifting Capacities from 125kg up to 980kg.
Key Features of the Mini Air Hoist
New innovative design
Easy maintenance
high speeds
sensitive control
custom configuration options
longer lifetime
more safety
service app for instructions.
exceptionally smooth operation.
View the specifications in the tab above to see all the technical details including the great lifting speeds.
Additional Hoisting & Equipment Options
Lifting Gear Direct can supply a wide range of air hoists from leading manufacturers from J D Neuhaus to Red Rooster and Yale. There are numerous options across the model range so there should be something suitable for your needs. We can also supply other types of hoisting equipment such as electric hoists, if air hoists are not going to be suitable. Supplementary lifting gear is also readily available in order to complete you lifting application. Slings, shackles, clamps and cranes are easy to order at LGD. Call us today with your requirements on 01384 76961.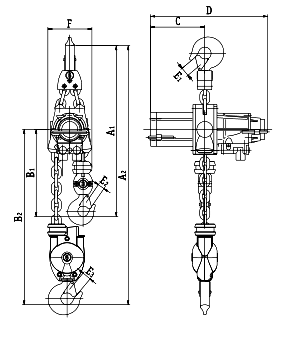 | | | | | |
| --- | --- | --- | --- | --- |
|   | Mini 125 | Mini 250 | Mini 500 | Mini 1000 |
| A mm | 328 | 328 | 458 | 458 |
| B mm | 232 | 232 | 316 | 316 |
| C mm | 367 | 367 | 505 | 505 |
| D mm | 92 | 92 | 122 | 122 |
| E mm | 213 | 213 | 292 | 292 |
| F mm | 109 | 109 | 148 | 148 |
| G mm | 104 | 104 | 144 | 144 |
| H mm | 177 | 177 | 234 | 234 |
| J mm | 148 | 148 | 194 | 194 |
| K mm | 83 | 83 | 119 | 119 |
| L mm | 29 | 29 | 40 | 40 |
| M mm | 19 | 19 | 28 | 28 |
TROLLEY DIMENSIONS 
Type

LN250

LN1000

 

A mm

79

79

D mm

17

17

D1 mm

25

30

D2 mm

30

35

H1 mm

30

25

I mm

67.5

81.5

L mm

260

260

L1 mm

130

130

O mm

55

68

T mm

 

144

151
Type

 

Mini 125

Mini 250

Mini 500

Mini 1000

Air pressure

bar

6

Carrying capacity

kg

125

250

500

980

Number of chain strands

 

1

Engine output

kW

0,4

1,0

Lifting speed at full load

1

m/min

15

8

10

5

Lifting speed without load

1

m/min

40

20

10

Lowering speed at full load

m/min

30

16

18

10

Lowering speed without load

m/min

24

12

6

Air consumption at full load - lifting

m³/min

0,5

1,2

Air consumption at full load - lowering

m³/min

0,7

1,6

Air connection

 

G 3/8

G ½

Hose dimension (Ø inside)

mm

9

13

Weight at 3 m standard lift / 2 m control length

kg

9,5

10,5

21

23

Chain dimension

mm

4 x 12

7 x 21

Weight of 1 m chain

kg

0,35

1,0

Height of lifts

m

03/05/2008

Length of control

m

02/04/2006

Sound level at full load - lifting

2

dB(A)

79

77

Sound level at full load - lowering

2

dB(A)

80

83
TROLLEY SPECIFICATIONS:
Type

LN250

LN1000

Capacity (KG)

250

1000

Beam flange width b (mm)

50-220

58-220

Max. Flange thickness t (mm)

34

30

Min. Curve radius (m)

0.9

1

Weight (KG)

 

7.7

10.5