Lightweight Wire rope Winch - Console Mounted
This wire rope winch was first designed for off road use but is also commonly used for many lifting and pulling tasks. Lifting capacities up to 1200kg are available for galvanized steel models and up to 900kg for the stainless steel model.
Call 01384 76961 for price.
About the console mounted Lightweight winch
This wire rope winch is available in a range of models; there is the stainless steel design, the galvanized steel design and the free wheel model.
The stainless steel models come with capacities up to 900kg and the galvanized model up to 1200kg.
The free wheeling device option enables the wire rope to be quickly unrolled when it is not under load. Variable crank options make this a versatile and efficient winch.
The lightweight winch incorporates a load pressure brake to prevent accidental lowering of the load giving optimum safety whilst holding the load in any position.
The spur gears enable high efficiency and comfortable handling.
Each model may be column or base mounted and is easy to fit.
Other Wire rope Winches
Lifting Gear Direct has a wide range of wire rope winches in the collection which includes stainless steel models, worm gear models, wall mounted models and heavy duty models, so there is a winch to suit the majority of lifting and pulling operations. Get in touch with LGD if you need more help or information.
Model

 

LB 150 VZ

LB 350 VZ

LB 650 VZ

LB 900 VZ

  LB 900 ARA

LB 1200 VZ

  LB 1200 ARA

LB 250 VA

LB 650 VA

LB 900 VA

A,

mm

–

–

232

232

273

–

232

273

B,

mm

155

155

192

192

266

155

192

266

C,

mm

175

175

210

210

240

175

210

240

D Ø

mm

36

36

63.5

63.5

63.5

36

63.5

63.5

E Ø

mm

100

100

183

183

255

100

183

255

F,

mm

–

–

100

100

78

–

100

78

G,

mm

75

75

58

58

75

75

58

75

H,

mm

–

–

100

100

138

–

100

138

K,

mm

159

189

192

192/226*

192/226*

191.5

190

190

L,

mm

–

–

25

25

35

–

25

35

M,

mm

45

75

38

38

30

75

38

30

N,

mm

–

–

–

–

53

–

–

53

O,

mm

200

320

250

320

320

320

250

250

P,

mm

260

290

293

293/303*

293/303*

292.5

291

291

Q,

mm

81

111

95

95

95

111

95

95

R,

mm

50

80

50

50

50

80

50

50

S,

mm

48

63

55

55

55

65.5

55

55

* Free wheeling device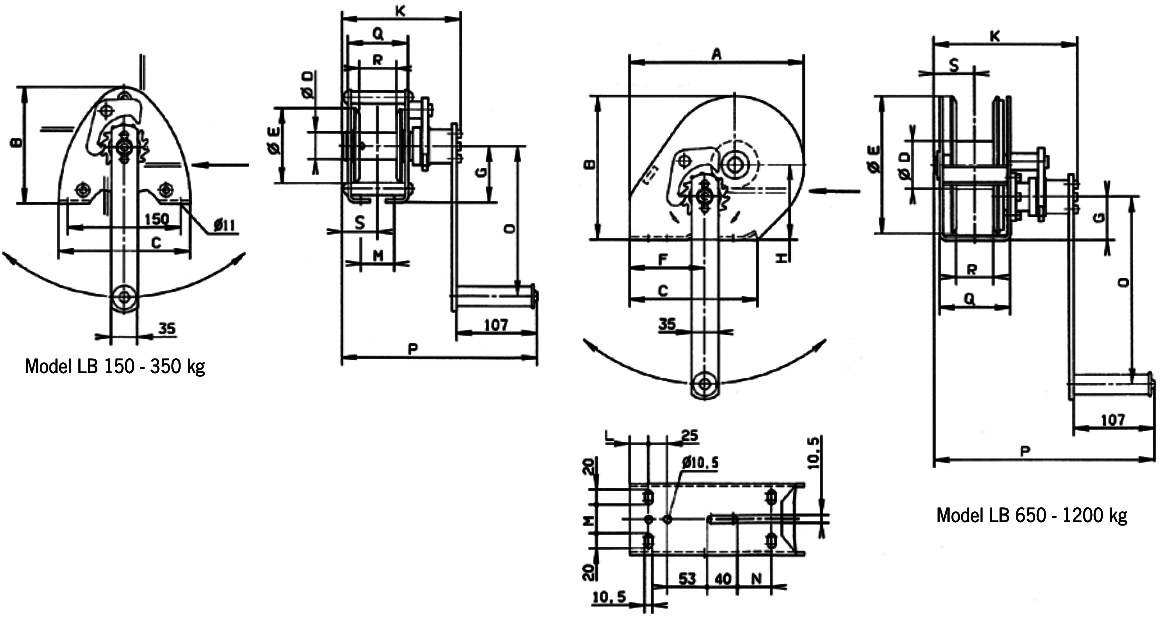 Type

 

Zinc-plated design

Free-wheel

Stainless Steel Design

Lifting capacity 1ST Rope Layer

kg

150

350

650

900

1200

900

1200

250

650

900

Lifting Capacity - upper rope layer

kg

75

170

290

400

430

400

430

125

290

320

Drive Group DIN 15020

 

1 Em

1 Em

1 Em

1 Em

1 Em

1 Em

1 Em

1 Em

1 Em

1 Em

Wire rope Ø

mm

4*

4*

6*

7*

7**

7*

7**

4*

6*

7*

Wire Rope cap. 1st layer

m

0.8

1.8

1

0.8

1

0.8

1

1.8

1

1

Wire Rope Cap. - total

m

11

20

20

14

26

14

26

19.5

20

26

Lift Per Crank rotation

mm

125

125

55

58

45

58

45

125

55

45

Required crank pressure

daN

17

25

22

24

24

24

24

20

22

24

Weight

kg

4.2

4.8

7.3

10

12.1

10

12.1

4.8

7.6

12.1