Fork or Crane Mounted Drum Rotater Contact DTR DS 3&4
Part of the DTR drum rotator range the DTR 3 & 4 DS models can be both mounted to a forklift truck or be slung from a hook making them very versatile. They are manufactured to high standards to all the necessary requirements for safe drum handling.

Brand::

Contact

Product Code:

Contact DTR DS 3&4

Availability:

In Stock
Call 01384 76961 for price.
About the DTR 3&4 fork or crane mounted Drum Rotator
Steel and plastic drums can be manipulated with these rotaters, the standard 210 litre steel and L & XL ring plastic drums with up to 360 kg loads can easily be accommodated.
Each of the two models can be operated in a different way to suit a variety of applications, so it's up to you which one you choose. The DTR 3 DS is operated by a crank type handle, when raised and lowered it will engage the gearbox and rotate the drum.
The DTR 4 DS drum rotator is operated by means of a loop chain, all you have to do here is pull on the chain to make is pass through the gearbox to turn the drum, this type can be more beneficial if you need to rotate the drum above head height as the chain works from the driving seat. Both types are quite precise and can be stopped and held at any angle through its complete 360 degree rotation which can make steady pouring of its contents highly controllable.
Fitting to a forklift is pretty easy thanks to the sizable fork pockets; alternatively there is a lifting eye for crane/hoist hook attachment. There are variations in the types of girdle supports depending on the type of drum to be lifted. To fit the girdle to the drum it must be lifted to the correct height so the girdle is positioned between the steel drum rolling loops. Once the girdle is in position the girdle can be closed around the drum and the straps can be tightened as necessary to secure.
Types of drum rotaters Available
The DTR 3 & 4 range of drum rotators includes a few different model variations; some can only be used with steel drums and some can be utilised with both steel and plastic drums, there are also models for handling smaller 110 litre drums, these have capacities of 200kg and can only handle steel drums. You can find out all the technical details and dimensions in the table below. Remember the operating differences as stated above – the all DTR 3 models are crank handle operated and all DTR 4 models are loop chain operated.
Other versions of drum rotators are the DA40b the DTR-DS and the DTRU
Questions, Advice & Ordering
Would you like a question answered? Do you need some advice on choosing the correct drum lifting equipment? If you do then all you need to do is call 01384 76961 and speak to our team, you could also email us your questions on the contact pages.
If you would simply like a quotation for our fork lift mounted drum handling equipment or any other lifting equipment to compliment your choice then you can use these same methods or use the new request a quote form.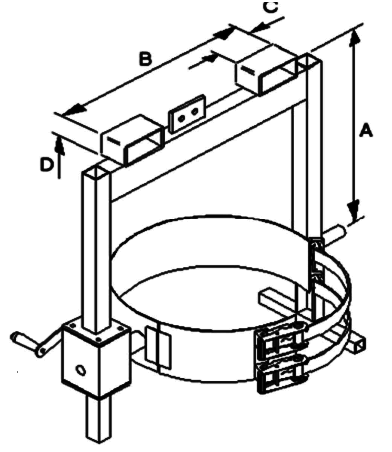 | | | | | | | | | |
| --- | --- | --- | --- | --- | --- | --- | --- | --- |
| Model | Capacity (KG) | No. Of drums | Drum Types | Type of Op. | A load centre | B fork spread | C fork width | D fork thickness |
| DTR-3-SC | 360 | 1 | 1 | Crank handle | 818mm | 707mm | 140mm | 60mm |
| DTR-4-SC | 360 | 1 | 1 | Loop Chain | 818mm | 707mm | 140mm | 60mm |
| DTR-3-DS | 360 | 1 | 1 & 2 | Crank handle | 818mm | 707mm | 140mm | 60mm |
| DTR-4-DS | 360 | 1 | 1 & 2 | Loop Chain | 818mm | 707mm | 140mm | 60mm |
| DTR-3-110 | 200 | 1 | 1 | Crank handle | 688mm | 547mm | 140mm | 60mm |
| DTR-4-110 | 200 | 1 | 1 | Loop Chain | 688mm | 547mm | 140mm | 60mm |

| | | |
| --- | --- | --- |
| Model | Weight (KG) | C of G |
| DTR-3-SC | 90 | 50mm |
| DTR-4-SC | 96 | 50mm |
| DTR-3-DS | 92 | 50mm |
| DTR-4-DS | 98 | 50mm |
| DTR-3-110 | 85 | 50mm |
| DTR-4-110 | 90 | 50mm |