Yale CPV/F Electric Hoist with Integrated Trolley
This powered lifting device incorporates the standard CPV/F electric hoist with an integrated trolley system, The Hoist Incorporates all the same specifications and optional extras as the stand alone CPV/F models (see more details on the Yale CPV/F Electric Hoist page)
DELIVERY CURRENTLY 4 WEEKS DUE TO COVID AND BREXIT DELAYS.

Brand::

YALE

Product Code:

Yale CPV/F Electric Hoist with Integrated Trolley

Availability:

In Stock
CPV/F Trolley Hoist Load Capacities & Travel Speed
This electric trolley is perfect for loads above 1000kg and for moving them across long distances, they are also ideal for frequent use.
The electric trolley system has travelling speeds up to 18 metres per minute (please refer to tables below) and can fit beam flange widths up to 300mm with thicknesses up to 19mm.
There are obvious advantages to this product over a manual push operated trolley and electric hoist pairing. It makes the system suitable for heavy duty, high cycle rate operations where the lifting gear has a major impact on the levels of productivity.
Yale Electric Hoist Safety Measures
Like other hoists in the range of lifting equipment from this manufacturer, the CPV/F is kitted out with a number of features that are designed to protect operators from harm. This includes a slipping clutch that ensures that the brakes activate in an emergency and prevent dropped loads.
Even if the power is cut, the electromagnetic brakes will kick in and prevent the chain from lowering when it is supporting heavy objects.
CPV/F Trolley Hoist Maintenance Benefits & Extras
From the tried and tested motors to the thoroughly lubricated gearbox, every important component of this hoist and trolley assembly has been designed with durability in mind. Accessing these parts to perform maintenance is also easy, whether you need to replace the chain, fix a fault or carry out any other important task to keep the hoist running smoothly.
On top of the standard features, there are optional add-ons that can be specified for this range. You can replace the pendant control unit, which is always attached to the hoist, with a remote alternative for greater freedom of movement. You can add thermal overload protection to prevent the motor suffering damage during intensive operations. There is even a Yale-branded container to keep the chains neat and tidy when the electric hoist is not in use. With so much choice, you will be able to specify the ideal hoist and trolley combination.
Yale CPV/F Electric Hoist & Trolley Key Features

The Trolley possesses a travel motor with worm gear transmission
Smooth start up.
Self-braking
Compact & robust with low overall height.
Ideal for loads over 1000kg
Motor protected to IP55
Operating voltage = 400v, 3ph, 50hz.
Please note that Yale hoists and trolley's are not designed for use with any passengers.
Need More Information On Yale Trolley Hoist Systems?
At Lifting Gear Direct we want our customers to have all the information they need before they make a decision on purchasing an electric hoist. So if you still have questions, give us a ring on 01384 76961 or contact us online and we will get back to you with all the details. Also remember to get in touch if you need a quote for our inspection packages for electric hoist equipment.
| | | | | | | | | |
| --- | --- | --- | --- | --- | --- | --- | --- | --- |
| Model | CPV/CPVF 2-8 | CPV/CPVF 5-4 | CPV/CPVF 5-8 | CPV/CPVF 10-4 | CPV/CPVF 10-8 | CPV/CPVF 20-4 | CPV/CPVF 25-8 | CPV/CPVF 50-4 |
| A3, mm | 199 | 199 | 228 | 228 | 263 | 263 | 339 | 339 |
| A4 (Size I), mm | 449 | 449 | 508 | 508 | 593 | 593 | 631 | 631 |
| A4 (Size II), mm |   |   | 558 | 558 | 673 | 673 | 815 | 815 |
| A4 (Size III), mm |   |   | 638 | 638 | 768 | 768 | 905 | 905 |
| A4 (Size IV), mm  |   |   | 830 | 830 | 968 | 968 | - | - |
| A5, mm | 365 | 365 | 389 | 462 | 460 | 558 | 566 | 656 |
| b, mm | A = 58-180 B = 180-300 | A = 58-180 B = 180-300 | A = 58-180         B = 180-300 | A = 58-180         B = 180-300 | A = 58-180         B = 180-300 | A = 58-180         B = 180-300 | A = 98-180  B = 180-300 | A = 98-180  B = 180-300 |
| H1, mm | 25 | 25 | 24 | 24 | 23 | 23 | 30 | 30 |
| H3, mm | 113 | 113 | 129 | 129 | 129 | 129 | 178 | 178 |
| H4 (VTG), mm | 95 | 95 | 95 | 95 | 95 | 95 | 149 | 149 |
| H4 (VTE), mm | 142 | 142 | 142 | 142 | 142 | 142 | 121 | 121 |
| I (Push trolley), mm | 72 | 72 | 72 | 72 | 96 | 96 | 142 | 142 |
| I (Geared trolley), mm | 76 | 76 | 77 | 77 | 98 | 98 | 149 | 149 |
| L (VTP/VTG), mm | 310 | 310 | 310 | 310 | 360 | 360 | 525 | 525 |
| L1, mm | 130 | 130 | 130 | 130 | 150 | 150 | 209 | 209 |
| L2 (CPV), mm |   |   | 255 | 255 | 255 | 255 | 292 | 292 |
| L2 (CPVF), mm | 222 | 222 | 263 | 263 | 263 | 263 | 296 | 296 |
| L3, mm | 135 | 135 | 155 | 155 | 180 | 180 | 263 | 263 |
| L4, mm | 131 | 131 | 173 | 161 | 203 | 203 | 258 | 258 |
| O, mm | 60 | 60 | 60 | 60 | 80 | 80 | 125 | 125 |
| P, mm | 171 | 171 | 180 | 180 | 180 | 180 | 172 | 172 |
| P1, mm | 236 | 236 | 246 | 246 | 246 | 246 | 233 | 233 |
| S, mm | b + 50 | b + 50 | b + 50 | b + 50 | b + 54 | b + 54 | b + 70 | b + 70 |
| T, mm | 94 | 94 | 94 | 94 | 94 | 94 | 94 | 94 |
| tmax, mm  | 12 | 12 | 19 | 19 | 19 | 19 | 27 | 27 |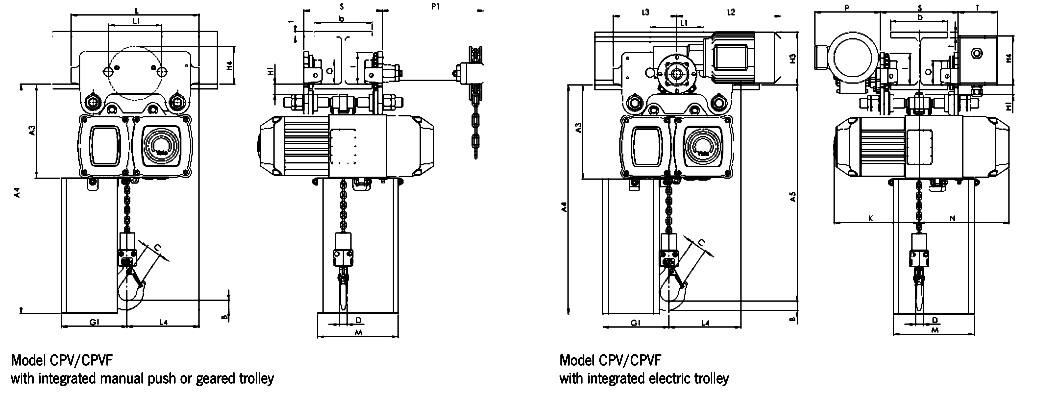 | | | | | | | | | | | |
| --- | --- | --- | --- | --- | --- | --- | --- | --- | --- | --- |
| Model | Capacity in kg/number of chain falls | Chain dimensions d x p (mm) | Classification FEM/ISO | Lifting speed main lift m/min | Lifting speed fine lift m/min | Hoist Motor (kW) | Motor Rating ED% | Weight suspension lug (KG) | Weight push trolley (KG) | Weight electric trolley (KG) |
| CPV/F 2-8 | 250/1 | 4 x 12.2 | 1Am/M4 | 8 | 2 | 0.37/0.09 | 33/17 | 19 | 28 | 33 |
| CPV/F 5-4 | 500/2 | 4 x 12.2 | 1Am/M4 | 4 | 1 | 0.37/0.09 | 33/17 | 19 | 28 | 33 |
| CPV 5-8 | 500/1 | 5 x 15.1 | 1Am/M4 | 8 | | 0.75 | 50 | 26 | 41 | 49 |
| CPV/F 5-8 | 500/1 | 5 x 15.1 | 1Am/M4 | 8 | 2 | 0.75/0.18 | 33/17 | 27 | 42 | 50 |
| CPV 10-4 | 1000/2 | 5 x 15.1 | 1Am/M4 | 4 | | 0.75 | 50 | 28 | 43 | 51 |
| CPV/F 10-4 | 1000/2 | 5 x 15.1 | 1Am/M4 | 4 | 1 | 0.75/0.18 | 33/17 | 29 | 44 | 52 |
| CPV 10-8 | 1000/1 | 7.1 x 20.5 | 1Am/M4 | 8 | | 1.5 | 50 | 58 | 77 | 84 |
| CPV/F 10-8 | 1000/1 | 7.1 x 20.5 | 1Am/M4 | 8 | 2 | 1.5/0.37 | 33/17 | 59 | 78 | 85 |
| CPV 20-4 | 2000/2 | 7.1 x 20.5 | 1Am/M4 | 4 | | 1.5 | 50 | 63 | 82 | 89 |
| CPV/F 20-4 | 2000/2 | 7.1 x 20.5 | 1Am/M4 | 4 | 1 | 1.5/0.37 | 33/17 | 64 | 83 | 90 |
| CPV/F 25-8 | 2500/1 | 11 x 31 | 1Am/M4 | 8 | 2 | 3.6/0.9 | 33/17 | 85 | 147 | 161 |
| CPV/F 50-4 | 5000/2 | 11 x 31 | 1Am/M4 | 4 | 1 | 3.6/0.9 | 33/17 | | | |
TROLLEY SPECIFICATIONS
| | | | | | | |
| --- | --- | --- | --- | --- | --- | --- |
| Capacity (KG) | Size | Beam flange width b (mm) | Beam flange thickness t max. (mm) | Curve radius min. (mm) | Electric trolley travel speed m/min at 50Hz | Electric trolley motor kW at 50Hz |
| 500 | A | 58-180 | 12 | 0.9 | 11 or 18 | 0.09 |
| 500 | B | 180-300 | 19 | 0.9 | 18 or 18 | 0.09 |
| 1000 | A | 58-180 | 19 | 0.9 | 18 or 18/4.5 | 0.18 or 0.18/0.06 |
| 1000 | B | 180-300 | 19 | 0.9 | 18 or 18/4.5 | 0.18 or 0.18/0.06 |
| 2000 | A | 58-180 | 19 | 1.15 | 18 or 18/4.5 | 0.18 or 0.18/0.06 |
| 2000 | B | 180-300 | 19 | 1.15 | 18 or 18/4.5 | 0.18 or 0.18/0.06 |
| 5000 | A | 98-180 | 27 | 2 | 11 or 11/2.8 | 0.37 or 0.3/0.09 |
| 5000 | B | 180-300 | 27 | 1.8 | 11 or 11/2.8 | 0.37 or 0.3/0.09 |